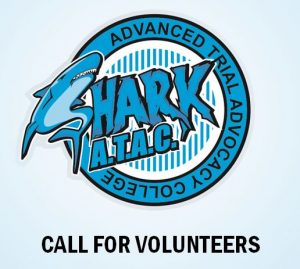 The Virginia Indigent Defense Commission (VIDC), which oversees all the public defender offices in the state, is hosting a unique training program entitled Shark ATAC: Advanced Trial Advocacy College.  The training program will be attended by a select group of VIDC's best young attorneys.  One of the key components to the training will be jury selection.
We are looking to recruit a diverse group of individuals from the community to serve as mock jurors for the jury selection portion of the training program.  Below are the details of the event.
DATE: THURSDAY, FEBRUARY 21, 2019
LOCATION:
Virginia Indigent Defense Commission
1604 Santa Rosa Road, Suite 200, Richmond, VA 23229
TIME:   (Note: You are welcome to sign up for more than one session)
Session #1:  8:45 am – 10:45 am
Session #2:  11:00 am – 1:00 pm
Session #3:  2:00 pm – 4:00 pm
EXPECTATIONS:
During the training, the attorneys will ask the mock juror volunteers about issues that relate to real cases in which the attorneys are involved. As a result, we request you respect the sensitive nature of what will be discussed during the exercise. As is the case with real jury selection, the questions being asked will often touch on sensitive and difficult topics. We recognize during this exercise you will be surrounded by friends, peers and co-workers and you may not wish to discuss personal experiences as a result.  However, in order to allow the pariticapting attorneys to have as realistic an experience as possible, we ask you to consider sharing your experiences, thoughts and opinions.
REGISTRATION:
To register as a volunteer, please use the link below.  After completing the form, you will receive a confirmation email that notes the details of the event.
*If you have problems viewing the form, please use a different browser such as Chrome, Firefox or Safari.  There are known compatibility issues with older versions of Internet Explorer. 
We realize that we are asking for volunteers to give up part of their day to help with this project, but we hope that the sacrifice will be worthwhile as it will help these young attorneys grow into the vital defenders our criminal justice system needs.
On behalf of the Virginia Indigent Defense Commission, our attorneys and our clients, thank you very much for your consideration in being a part of this training program.
Thank you,
VIDC Training Department
(804) 662-7249  |  Training@adm.idc.virginia.gov